Nathan Carr and Milivoy Webber Memorial Prize
An annual writing competition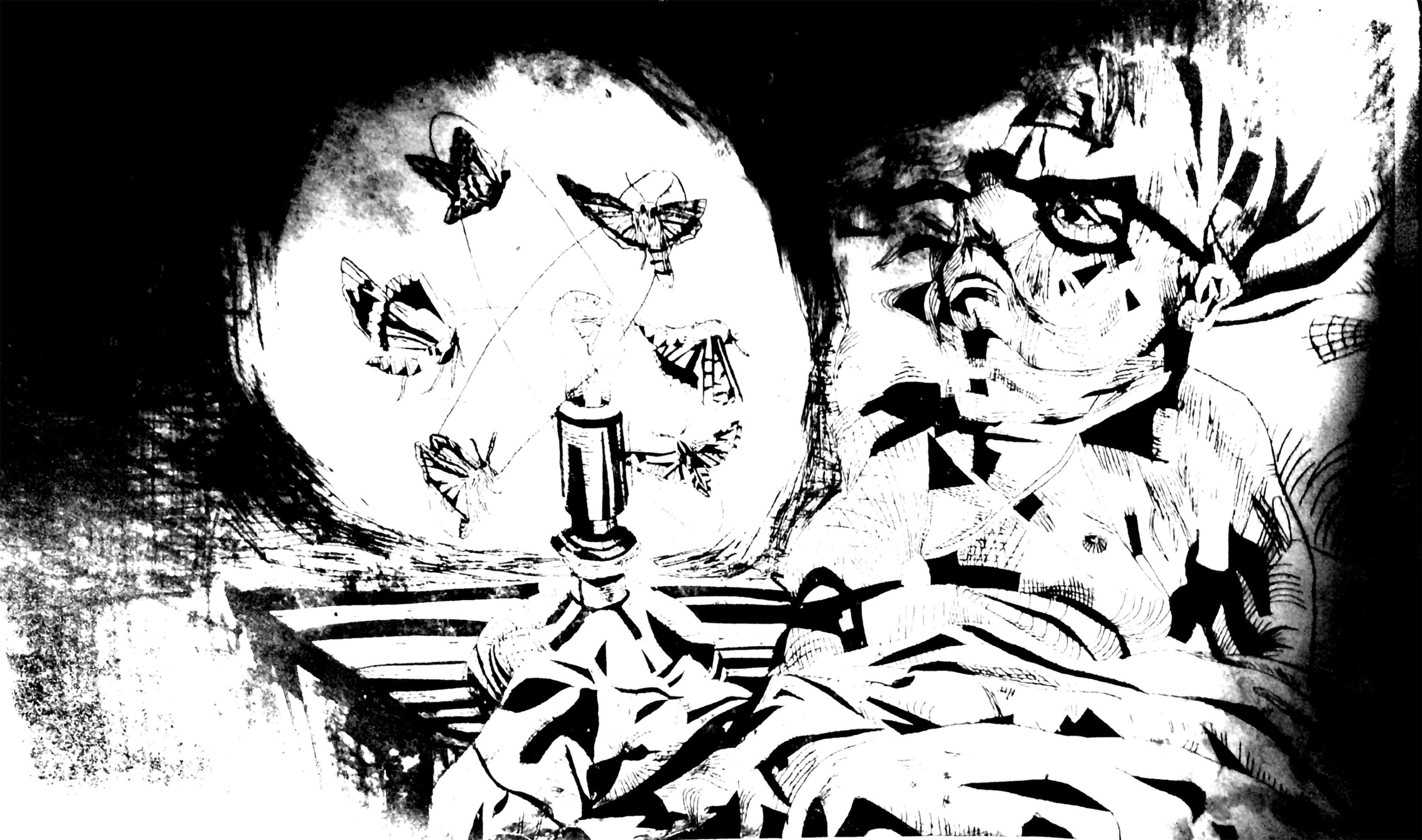 The 2021 competition is now closed!
Thank you to all applicants. Every single submission will be read and judged blind by a team of judges.
The genre was
MONOLOGUE
And the theme was
SO, WHAT IS THE FUTURE NOW?
The winner and runners up will be announced May 31, 2022.
The 2022 competition will be announced in August 2022.
---
For further information, please keep scrolling!
Feedback on the 2020 Competition
Communications between the writer and Mama Quilla were consistently prompt, friendly and substantive. I felt that my submission was getting serious, expert consideration. Feedback/ encouragement from Kay Adshead was much appreciated. Allston James
…without this competition I would not have written 'They is mad in asylum' and explored the voice of the woman who is the main character. I have spent a lot of time working and just being with people who like her have experienced trauma…Jacqui Norton-Lovell
Simple submission process, and clear guidelines. Amy Toledano
Prize
First prize £250 + publication on this website, with a specially designed illustration by printmaker, Raf.
£50 will be awarded to each of two runners up.
Genre
Flash Fiction (2020)
Monologue (2021)
Theme
LGBTQIA (2020)
So, What is the Future Now? (2021)
Closing Date
2020 competition closed.
2021 competition closed.
Description
This prize is awarded annually in memory of Nathan Robert Carr and Milivoy Ivon Webber. The competition genre and theme will change each year. 2021 is the second year of the competition, which is sponsored by Mama Quilla Productions—Art for Change. Mama Quilla spotlights neglected human rights issues and explores the big issues of the day from a female perspective.
Eligibility
You must be at least 18 years of age.
Your entry must not have been previously published in print or online, been broadcast, or won a prize.
How to Enter
Please read the Frequently Asked Questions below and then upload your manuscript using the Contact form (click on the envelope icon floating at the bottom right of this window).
If you have any questions, please do not hesitate to send us a message using the Contact form.
Kay Adshead, competition facilitator
Kay Adshead is a poet, playwright, performer, theatremaker and producer. She is published by Faber, Methuen, and Oberon, and has been nominated three times for the Susan Smith Blackburn Award. She is Artistic Director of award-winning UK-based theatre company Mama Quilla Productions.
For the 2021 prize, Kay will facilitate free writing workshops at the Alexandra Palace, London (open to all).
Raf, competition illustrator
Raf worked four seasons with the iconic Bread and Puppet activist theatre company making puppets and performing in Vermont and New York.
She created 83 handprinted illustrations for the long performance poem, The Singing Stones, by Kay Adshead, and illustrated The Waiting Room by Isilde Almeida for Mama Quilla's The Working Class Project.
In 2020, she responded to Chitra Iyengar's winning story by creating a bespoke limited-edition print to illustrate the story. The original print is part of the prize awarded to Chitra.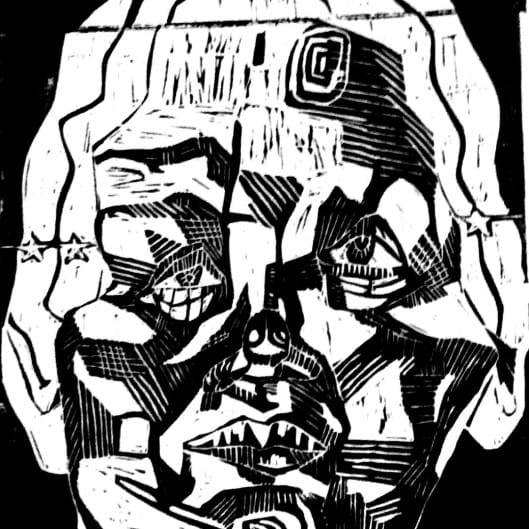 Pauline Moran – Guest Judge

An acclaimed actress, Pauline has appeared in films such as The Good Soldier (1981), The Woman in Black (1989), Byron (2003) and A Little Chaos (2014), as well as the 1983 television series The Cleopatras. You may know her as the vinegary Miss Lemon in the popular Poirot series.She brings a lifetime of experience working in theatre to our panel, and if anyone can judge a really thrilling and innovative dramatic monologue (written outside the box), it is her.
Pauline says…

Kay Adshead asked me to be the guest judge on the 2021 Carr Webber literary prize. And I am delighted to do so. As a performer myself, I am thrilled to see an initiative to generate new performance pieces. I worked with Kay on her stunning play Bones and I am on the board of Mama Quilla Productions. In a previous life, I was bass guitarist in the female rock band She Trinity.
Jodie Jameson

Award-winning actress and writer with countless TV, film and stage credits. A Mama Quilla company veteran. She is Executive Producer of her own film production company, SheSpeaks.
Sadie Adshead

Ex-soldier and uniformed services lecturer at Hugh Baird College. Impresses upon her students the value of the written word, which she sees as a dying art. Loves reading anything original, controversial, with a bit of a twist.

Juliana Webber

Devoted sister of Milivoy Webber and good friend to Nathan Carr. Enjoys spending time with her house rabbit, working on vintage dolls houses, making jewellery, and lots of reading!
Anthony Sergeant

Actor, writer, trained at RADA, performances include the Glasgow Citizens Theatre, Sheffield Crucible, Royal National Theatre, and the Royal Albert Hall.
Sue Phelan

Journalist, educationalist, painter, and world traveler. Mama Qulla Executive Board Member. Voracious reader and ex-independent bookshop manager.
Steven Beard

Veteran actor who has worked with the Royal Shakespeare Company, the Royal National Theatre, the Young Vic, the Old Vic, etc. TV and film credits include Shakespeare in Love, The Remains of the Day, and Cadfael.
Rachel Davidson

Sister of Nathan Carr. Train driver and avid reader. Into many kinds of crafts. Mother of two.
Dylan Adshead

Media studies student and apprentice footballer.
Peter Carr

Father of Nathan Carr. Lived in Texas for 18 years where Nathan and Milivoy enjoyed to visit. A civil and structural engineer specializing in risk assessment, and a Mama Quilla Executive Board Member. Dabbles in software development and web design.
Mos Aden

Mos made his theatrical debut, both as performer and playwright, at the Royal Court Theatre where he was invited to join the Unheard Voices programme. He has appeared on stage at London's most acclaimed theatres.
Frequently Asked Questions
How long should my entry be?
Not more than 750 words. Hyphenated words count as one word. Please include a title. The title is not considered in the word count.
What should I write about?
Whatever you like, as long as you write in the specified genre and respond to the competition theme .
How many times can I enter?
You may enter up to 3 times.
Is there a fee to enter?
Entry to the competition is free of charge.
I don't live in the UK, can I still enter?
Yes, as long as your entry is in English.
Can I submit my entry simultaneously to other competitions?
Simultaneous submission is permitted. Should your entry win a prize or be published elsewhere, please let us know using the Contact form so that we may remove it from this competition.
Can I revise my entry after submitting it?
Yes, just upload it again using the Contact form but please let us know that the upload is an amendment to a previous submission.
What are the prizes?
There is one prize of £250. The winning entry will be published on this website with an accompanying illustration specially created by artist and printmaker, Raf.
How do you choose the winner?
The entry that receives the most votes from the judges will win. The identity of the entrant will be redacted from the manuscript. The judges' decision will be announced four to six weeks after the closing date and is final.
What happens if I win?
We'll notify you by email and pay your prize money via PayPal or bank transfer. Your entry will be published on this website. You retain the copyright. Printmaker Raf will illustrate your entry with a handmade print specially designed to complement it and afterwards you will be sent in the mail the original print to keep. At time of publication, we will ask you for a short bio and photograph for inclusion on the website alongside your entry and for your mailing address so we can send you your handmade print.
About Nathan Carr and Milivoy Webber
Nathan and Milivoy were loving partners for the last 10 years of their lives. Nathan (1976-2017) worked for many years as a researcher for Mama Quilla. He was always the first to review the scripts of new plays. His passions were books and current affairs. Milivoy (1967-2017) was an aspiring novelist who loved travel, languages, music, chess and table tennis. Their lives were tragically short and they are deeply missed by their family and friends. This prize honors their lives.